Guanyu is a home-made solution to scan user-generated contents for malicious files and links. In the past year, it serverved us with great availability at extremely low cost ($1.25e-5 per scan), without human intervention.
In this session, we'll talk about mistakes and lessons learnt scaling a monolithic spot cluster, and how to do it the better way on AWS (decouple with SQS, hybrid scan engines with Lambda and ECS, and Auto Scaling).
登壇者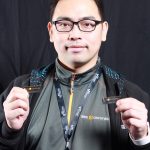 Cliff Chao-kuan Lu (呂昭寬)
所属:AWS User Group Taiwan
Cliff Chao-kuan, senior architect in 104 Corp. has played solutions architect and DevOps in Taiwan start-ups and enterprises since 2010. He is experienced in service migration and has built tools and patterns to facilitate cloud adoption.
Cliff is the organizer of the AWS User Group Taiwan and has been an active member since 2014. The group has 7,178 members and has held regular meet-ups since it was founded 2012.
104 Corp. has been the leading Jab Bank in Taiwan since it was founded in 1996. Like other enterprises that rose before cloud, it relies on manual operation and suffered from capacity management and hardware failure. We at 104 see public cloud as an opportunity for business agility, scalability, and cost effectiveness.